Sat, Aug 13, 2022 -

10:00 am

to

4:00 pm
Ulster County Clerk Nina Postupack is pleased to welcome back Hank Yost, World War II reenactor, to the Matthewis Persen House Museum on Saturday, August 13, for a special presentation.  The Matthewis Persen House is located at 74 John Street in uptown Kingston, at the corner of John and Crown Streets. Admission is free and all are welcome. 
World War II saw an unprecedented number of young Americans serving in the Armed Forces.  This led to a shortage of workers on the home front, the migration of families to industrial areas for work, challenging work conditions, and nationwide rationing. Join reenactor Hank Yost on Saturday, August 13, from 10:00 am to 4:00 pm for a presentation and informal discussion on the challenges faced at home and abroad during WWII.  Everyone is welcome to join in the discussions taking place throughout the day.
"Hank Yost brings history to life in his World War II American soldier persona," said County Clerk Nina Postupack.  "His dedication to accurately portraying the people and events surrounding this difficult time in history is a valuable resource for the whole community."
For further information about the Matthewis Persen House Museum and other outreach programs of the Ulster County Clerk's Office, please contact County Clerk Nina Postupack at (845) 340-3040 or countyclerk[at]co.ulster.ny[dot]us or visit us on Facebook.
###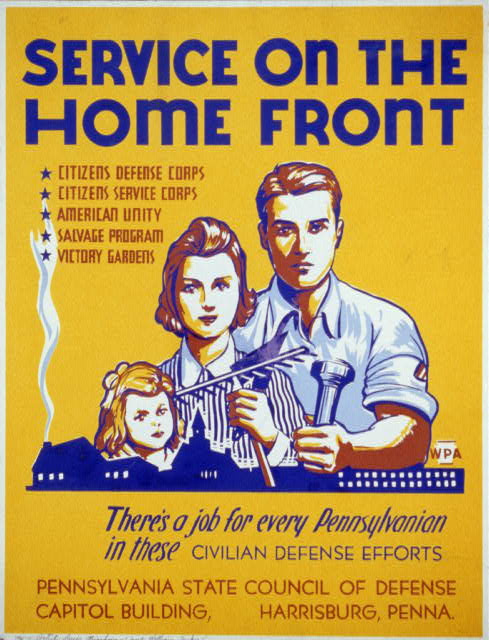 Poster encouraging participation in civil defense efforts, showing family prepared for work.  Created January 21, 1943, by artists Louis Hirshman and William Tasker, sponsored by Federal Art Project.  Retrieved from the Library of Congress, www.loc.gov/item/98518713/.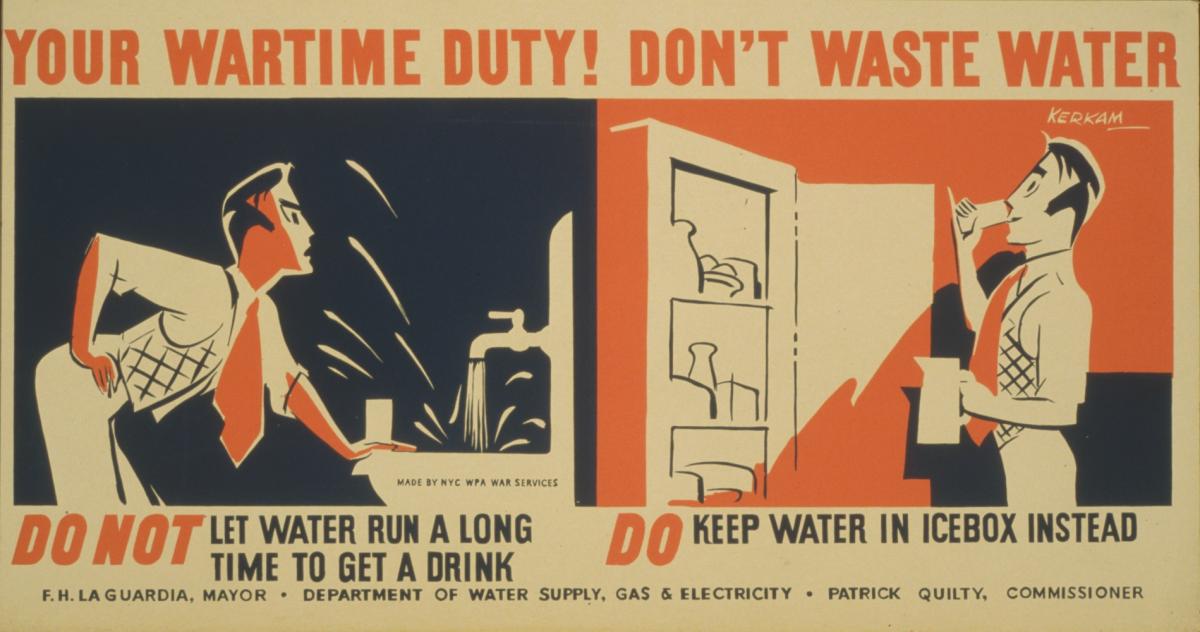 Poster for The New York City Department of Water Supply, Gas & Electricity for a campaign to conserve water, showing a man drinking water.  Created between 1941 and 1943 by artist Earl Kerkam, sponsored by Federal Art Project.  Retrieved from the Library of Congress, www.loc.gov/pictures/item/98516596/.
Organization:
Matthewis Persen House Museum
Venue Name:
Matthewis Persen House Museum