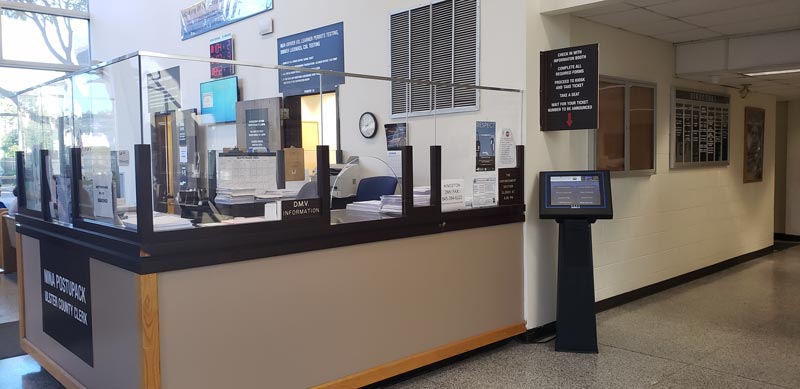 Ulster County Motor Vehicle offers a variety of services by appointment only to the residents of the County. Please go to our website make an appointment.
The County Clerk's Office offers drop box services at the County Office Building 244 Fair Street, Kingston, NY, for the following transactions: duplicate titles, surrender of plates and renew of registrations. Our County loses tens of thousands of dollars in revenue each year when Driver's License and Registration Renewals are mailed to Albany or renewed online. To help us keep that revenue in Ulster County, deposit your renewals in our drop box, or mail them directly to:
Ulster County Clerk
PO Box 1800
Kingston, NY 12402 
If you have tested positive for COVID-19, Ulster County requires proof of release from quarantine prior to entering the County Office Building which includes the Department of Motor Vehicles.  Please have your Release from Quarantine Order with you when arriving for your DMV appointment.  If you do not have the order with you, the appointment must be rescheduled.
Office Hours of Operation
244 Fair Street, Kingston, NY 12401
Monday, Tuesday, Wednesday & Friday 8:00 am – 4:45 pm
Thursday 8:00 am – 6:30 pm
Please check specific transactions for correct processing times.
DMV Mobile Unit

UNTIL FURTHER NOTICE THE DMV BUS IS NOT IN OPERATION DUE TO COVID-19.
In an effort to be as conveniently accessible to as many Ulster County residents as possible, the County Clerk's Office offers limited DMV services through our DMV Mobile Unit.  The DMV Mobile Unit travels to 6 different towns throughout Ulster County during the year.
Hours each day are 10:00-1:00 and 2:00-3:30. 
*Please note: There may be changes in the schedule due to inclement weather.
Monday
Marlborough Highway/Water Department
1650 Route 9W
Milton, NY 12547
Tuesday
Saugerties Town Hall
4 High Street
Saugerties, NY 12477
Wednesday
Ellenville Village Hall
2 Elting Court
Ellenville, NY 12428
Thursday
New Paltz Community Center
3 Veterans Drive
New Paltz, NY 12561
Friday (1st week of the month)
Shandaken Town Hall
7209 Route 28
Shandaken, NY 12480
Friday (2nd, 3rd, 4th, & 5th weeks of the month)
Shawangunk Town Hall
14 Central Avenue
Wallkill, NY 12589