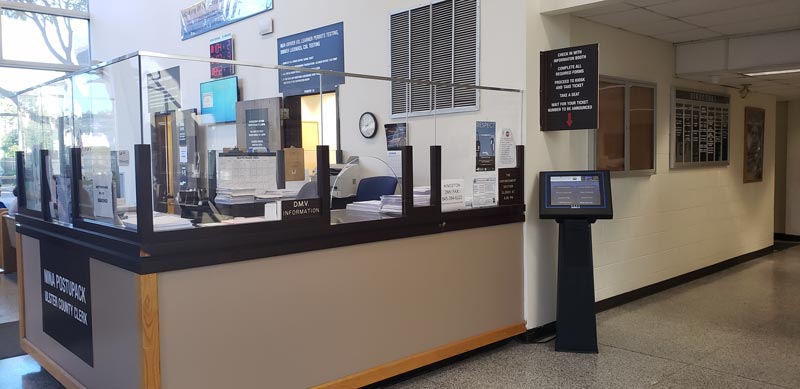 Ulster County Motor Vehicle offers a variety of services by appointment only to the residents of the County. Please go to our website make an appointment.
The County Clerk's Office offers drop box services at the County Office Building 244 Fair Street, Kingston, NY, for the following transactions: duplicate titles, surrender of plates and renew of registrations. Deposit your renewals in our drop box, or mail them directly to:
Ulster County Clerk
PO Box 1800
Kingston, NY 12402 
Office Hours of Operation
244 Fair Street, Kingston, NY 12401
Monday, Tuesday, Wednesday & Friday 8:00 am – 4:45 pm
Thursday 8:00 am – 6:30 pm
Please check specific transactions for correct processing times.
DMV Mobile Unit

In an effort to be as conveniently accessible to as many Ulster County residents as possible, the County Clerk's Office offers limited DMV services through our DMV Mobile Unit.  The DMV Mobile Unit travels to 6 different towns throughout Ulster County during the year.
Visit the Mobile Unit page for schedules and accepted transactions.
DMV Road Test Site
As of March 6, 2023, the New York State Department of Motor Vehicles will be relocating the Kingston Road Test Site from its current location on the eastern side of Dietz Stadium in uptown Kingston. The move is necessitated by the upcoming renovation of the stadium. The new location for all standard class D (Driver) and M (Motorcycle) road tests will be on Cornell Street at Tremper Avenue, in midtown Kingston, near the main Kingston Post Office.