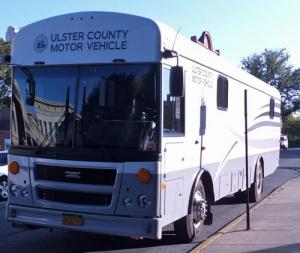 In an effort to be as conveniently accessible to as many Ulster County residents as possible, the County Clerk's Office offers limited DMV services through our DMV Mobile Unit.  The DMV Mobile Unit travels to 6 different towns throughout Ulster County during the year.
Hours each day are 10:00-1:00 and 2:00-3:30. 
*Please note: There may be changes in the schedule due to inclement weather.
Monday
Marlborough Highway/Water Department
1650 Route 9W
Milton, NY 12547
Tuesday
Saugerties Town Hall
4 High Street
Saugerties, NY 12477
Wednesday
Wawarsing Town Hall
108 Canal Street
Ellenville, NY 12428
Thursday
New Paltz Community Center
3 Veterans Drive
New Paltz, NY 12561
Friday (1st week of the month)
Shandaken Town Hall
7209 Route 28
Shandaken, NY 12480
Friday (2nd, 3rd, 4th, & 5th weeks of the month)
Shawangunk Town Hall
14 Central Avenue
Wallkill, NY 12589
The following transactions can be conducted at the Mobile Unit:
Driver's License Renewal
Learner's Permit
Non-Driver I.D.
Real I.D.
Vehicle Registration
Registration Renewal
License Plate Surrender
Duplicate Title Request
Change of Address